CBRE-empirica-Vacancy-Index 2021
The market-active vacancy rate increased for the first time in 14 years and was at 2.8% or 611,000 units at the end of 2020. This is a change of around 8,000 apartments compared with the previous year.
While vacancies in shrinking regions have already been rising since 2015, an increase can now also be observed in swarm cities and A-cities. This development is due to changes on both the supply and demand sides. Twice as many apartments are now being built in the swarm cities as ten years ago. On the demand side, in addition to ongoing suburbanization, inward migration collapsed last year due to corona.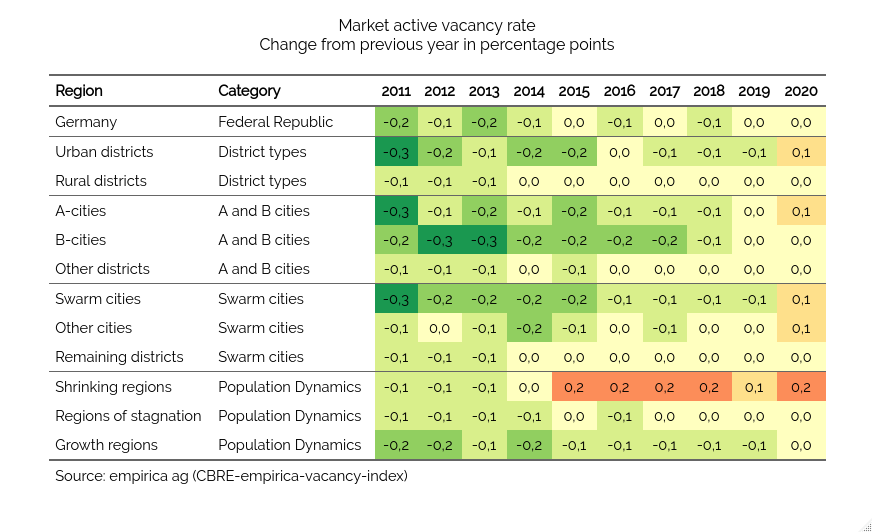 The CBRE-empirica-vacancy-index is the only data source with information on the market-active vacancy rate in multi-storey flats in Germany. The current figures are based on management data from the real estate consultancy CBRE (around 722,000 residential units) as well as extensive analyses and estimates based on the empirica regional database and the Federal Statistical Office.
Our clients receive the current data of the empirica property price index and the CBRE-empirica-vacancy-index via the market studio. The empirica regio Housing Market Reports also contain the most up-to-date data. Contact us for further information. The methods and data basis for the price index and the vacancy index as well as further data sets can also be found on the website of empirica ag.