empirica real estate price index Q2 2019
New rents and purchase prices for the second quarter of 2019 from the empirica price database are now available for download.
The current data show a slower increase in rents in prime locations with continued high price increases in the owner-occupied segment. As a result, yields in A and B cities continue to decline significantly.
The pseudo-returns for new construction are shown here as an example. This indicator is calculated as the ratio of quality-adjusted rental prices to quality-adjusted purchase prices for multi-storey apartments in the empirica property price index.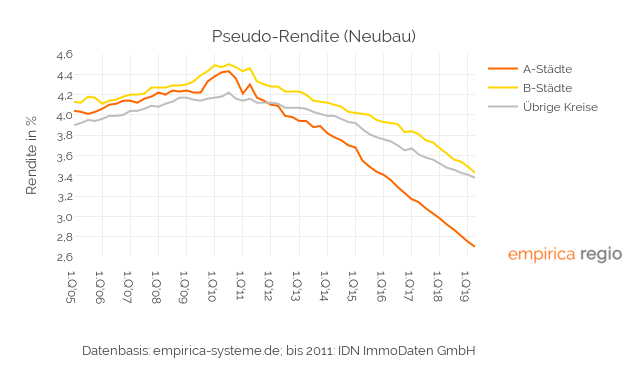 If you would like to test these current market data (rents, purchase prices, pseudo-yield and multiplier) and other indicators in our application, then contact us. We will be happy to advise you and present our offer to you.
Further information on the current real estate price index can be found at empirica.
And if you are interested in multipliers and initial yields of rented apartments, then have a look at the colleagues from empirica-systeme.